The Post-Dispatch is publishing a weeklong series on the storied careers of Cardinals Albert Pujols and Yadier Molina as their final regular season in St. Louis comes to a close. Pick up the print edition on Sunday, Oct. 2.
One word was all Cardinals manager Oliver Marmol wanted to hear from each player he asked, one word that would say a lot and, upon detailed inspection, reveal so much more.
In his first spring training at the helm, Marmol asked several players how they, personally, would want their offense to be described at season's end. He did not want a sentence or dissertation. He requested one word, a brief description that might lead to further conversation. He fielded the familiar adjectives. Tough. Relentless. And then Yadier Molina answered.
Born into a baseball family and bronzed as a champion in a baseball city, Molina spent his career steps ahead of the stats — excelling at pitch-framing before it was pixelated, shutting down running games faster than analytics could. He molded games in ways box scores still haven't captured. Instead of the usual cacophony of numbers to describe an elite player, peers and coaches search for synonyms for how Molina intuitively sways the game. They note his "baseball IQ," call him "the most intelligent player on the field," and say he "uses a different set of lenses." His brother, former big-leaguer Bengie Molina, said "he sees the sixth inning while you're playing the third."
Yadier's game is a 3-D stereogram — a vibrant picture, but relax the eyes and new depth appears.
Thrust into Puerto Rico's Coliceba league at 15 and playing against strong amateurs, some twice his age, Molina studied the edges, how seasoned players sprang hidden ball tricks, and he learned to level the playing field. He was gifted with eye-hand coordination for contact at the plate and stealing strikes behind it. But he wasn't going to be the biggest or strongest or fastest on the field. He would not outslug or outrun opponents, so he found another way to outplay them. In one word: outsmart.
"People have some doubt, because obviously you don't run, you don't have power. What can you do?" Molina told the Post-Dispatch. "So, I put that in my mind. I was like, 'One day I'm going to prove you wrong.' And I think I did. I think I did.
"I love everything about baseball because you have to think about baseball," he continued. "You have to think about what you're going to do. You have to think about what you did last week against those guys. You have to think about what you're going to do next week, tomorrow, today. That's part of my game. Pay attention to the little details and try to take advantage."
The last to wear No. 4 for the Cardinals, Molina will retire ranked first in categories that define a catcher's durability and, considering the demands of the position, illustrate he's one of the most influential players of his generation. His 19 seasons with the Cardinals are second to Stan Musial's 22, his nine Gold Glove awards second to Ozzie Smith as a Cardinal and behind Ivan Rodriguez and Johnny Bench at catcher. No player has more putouts — more than 5,013 innings worth of them. Opponents just stopped running on Molina: The 1,358 steal attempts against the Cardinals since 2005 are the fewest by 500. Twenty-seven teams have allowed more steals than opponents have even tried against the Cardinals.
Molina's the only catcher with 2,200 games for one team and one of four full-time catchers with at least 2,000 hits. No National League catcher has a better career winning percentage (.560) or more shutouts (157), and no NL player has appeared in more postseason games (102, so far). Molina called the curveball that froze Carlos Beltran and hit the homer in that 2006 game that clinched the pennant. David Freese headlined the 2011 World Series drama, but Molina had more RBIs in it, nine to seven. The two seasons immediately after Albert Pujols left for the Angels, Molina finished fourth and third in MVP voting.
The sum of it all is "he strictly wants to win," said Marmol.
Since Molina's debut in June 2004, the Cardinals have played more than 2,920 regular-season games. They have been mathematically out of contention from the playoffs in 24.
"Yadi has been the mainstay — always there, always back there, always leading them," former MVP Christian Yelich said. "Sometimes it feels like he knows what you're thinking."
"I think Yadi has been the staple, one of the better catchers, if not the best catcher, for as long as I've been in baseball," said Cubs manager and former catcher David Ross.
"Yadi's been a quiet type," said Atlanta third base coach Ron Washington, Texas' manager in the 2011 World Series loss to the Cardinals. "He just does most of what he does with his actions. Whatever you do decide to do you better be 100% right because he's back there thinking how he can be 100% right to shut you down. He doesn't miss anything on the field. That's what tremendous catchers and Hall of Fame catchers do. You definitely have to change your game plan because of his intelligence behind the plate."
Outwit, outwork, outplay
Head home with Molina after a game for a sense of how he ingests a kaleidoscopic amount of baseball and finds the patterns. At any time, he may have three or four games on TVs at once, and sometimes he'll have YouTube playing a game 20, 30 years old. He will know the outcome and still groan or holler when he spots a poor pitch sequence or mistake, friends describe.
He will suggest a hit and run in one game — and call it before it happens in another.
"Like a religion in my family," Molina explained. "That's why I play."
Bench told Wainwright that Molina was the best defensive catcher he's ever seen. Once asked what Molina does that other catchers should borrow, Buster Posey, a contemporary and former MVP, answered: "Everything." Sandy Alomar Jr., whose play Molina mimicked as a young catcher, turned to the martial arts for a comparison of Molina. Like Bruce Lee, Alomar said, Molina invented his own style. When Houston catcher Christian Vazquez became the starter for the Red Sox, he texted Molina for advice: "How do you get better as a leader, so that your teammates respect you more?"
Lead by work was the reply.
"I feel like my era, whenever someone was, 'Oh you want to be a catcher?' The answer is, 'Oh, yeah, I want to be like Yadier Molina,'" said Yankees All-Star catcher Jose Trevino, who wears his hat backward under his mask to be like Yadier Molina. "It's the same thing as kids who want to be a shortstop want to be like Derek Jeter."
Players often talk about the greats with amazement.
Peers talk about Molina with reverence.
"I've said this to my closest friends and other dads," former teammate Matt Carpenter said. "There is just an extra layer to the Hall of Fame player — of toughness, of grit, of knowledge. Real students of the game. The aptitude of the game. And competitiveness. Yadi embodies all of that. You hear it all the time about the greats like Michael Jordan, Kobe Bryant — they make everyone else around them better. Yadi does, for sure."
Quick study
The Cardinals selected the youngest of the Molina boys in the fourth round of the 2000 draft and sent scout Steve Turco to evaluate him at an American Legion tournament and determine if Molina was worth a higher bonus.
President of baseball operations John Mozeliak, the director of scouting at the time, recalled his exchange with Turco.
"What did you think of Yadier Molina when you saw him?"
"Give him whatever he wants."
Molina's two brothers, Bengie and Jose, had already been in the majors, and he was the well-known son of a Hall of Fame amateur infielder, Benjamin Molina. Benjamin spent so much time coaching baseball and tending to the ballpark that kids knew him as El Senor que Los Campos, the caretaker of the field. The Molinas lived in Vega Alta, Puerto Rico, an area known as El Pueblo de los Nangotoas, or Village of the Squatters. The nickname comes from the pose workers had waiting for the train. Molina once said he knew baseball was his way up and out.
Before the draft, Molina attended a workout in Cincinnati and left convinced the House of Bench was going to draft him, and high. He never forgot how the Reds passed and sought the same bonus. On Turco's advice, the Cardinals signed him for $325,000.
Molina reported to instructional league and, as he later described, knew how to win, knew the game, had a good arm, "but didn't know much about catching skills." Then he met the man he called "my angel" — beloved coach Dave Ricketts. A demanding and devoted mentor, Ricketts once pulled Molina out of a game for a rigorous series of blocking-ball drills and then returned him to the game. When the Cardinals canvassed their coaches for suggestions who could catch Rick Ankiel as he battled wildness and doubt, Ricketts said Molina could.
He was 18. Word was getting around.
"You dig a little deeper for the moments he takes over because they don't stand out like watching Albert Pujols hit the ball off the Big Mac sign," former starter Chris Carpenter said. "It really all goes back to how much he cares. His care factor of really wanting to invest himself into his career, into the game of baseball was really big. He cared about knowing, he cared about paying attention, he cared about what was going on around him, and he cared about your success. He cared about what he could give teammates. He cared about preparation. He cared about his failures. He showed up to the ballpark every day trying to understand something more."
In a Chris Carpenter start at Pittsburgh in May 2010, Molina chased a runner back to third base, where another Pirate was already standing. Molina knew the rule — but tagged the runner who was safe. When that Bucco left the base, Molina tagged him again for the double play to end the inning. The Cardinals won, 4-3. Molina had four hits.
This season, Molina caught sight of how the Giants were relaying signs to runners, and, in the middle of an at-bat, decoded a hit-and-run. He called for a pitch out and easily threw a runner out to end the inning. In 2017, the Reds drew a two-out walk to load the bases, and Molina stood casually at home as if surveying the mess. He was waiting for what he spied a runner do weeks earlier. Eugenio Suarez strolled into third and then a step past it. Molina whipped the ball to Jedd Gyorko for an out that ended the inning. Molina will position the defense so the hitter thinks he knows the pitcher is coming inside and then, as coaches wince in the dugout, call an outside pitch.
"I'm always going to be fascinated by Yadier Molina because I've seen all of his tricks, and I know he has more in there," former teammate Kolten Wong said.
"I think we've all learned from watching him play," Milwaukee manager Craig Counsell said. "What's always the most impressive is how he … feels the game. He's got this innate sense of what's going to happen in the game and that's really powerful. He's as good at it as anybody."
Tricks of the trade
In the midst of a record-setting 17-game winning streak and at the start of the heated fantasy football season, Wainwright stood on the mound, trouble percolating all around him.
Out walked his trusted confidant, his compass, his catcher.
"You want Hill?" Molina said. "Alright, Hill?"
Hill was wide receiver Tyreek Hill, a fantasy juggernaut for Kansas City, and for weeks Wainwright had been trying to lure Molina into a trade. Wainwright's team needed a star, Molina's needed depth. And now Molina needed a distraction.
"We start going over trade scenarios in the middle of the game," Wainwright said. "OK, alright, no, I'm not doing that. It has to be a fair trade. And all of sudden the game wasn't speeding up on me anymore, slowed down, and I was able to go out and pitch."
Ask four pitchers about Molina's manner on the mound, and they're likely to describe four different Molinas. He reads them and what they need like he reads hitters. He never talked fantasy football with Chris Carpenter. At least two pitchers, John Lackey and Mitchell Boggs, shook off Molina's calls so often that he just waved them on. Throw whatever they want. He'd figure it out. No signs.
"He's catching 94-96 mph with good run and a hammer for a breaking ball — and he's framing it with no idea what was coming," former teammate Matt Holliday said.
They stopped shaking him off.
When Edward Mujica arrived for his first day with the Cardinals after a trade, he tracked down a coach to ask for a scouting report. The coach delivered it: "Follow Yadi."
The commitment Molina inspires in teammates explains one of his nicknames in Puerto Rico: "El Lider." He earned it as the heart and engine of Team Puerto Rico during its captivating run in the 2017 World Baseball Classic — a run that included Molina catching an opponent off first base as he celebrated a single. The nickname took on deeper meaning when Molina gathered necessities and personally delivered them to areas devastated by Hurricane Maria.
"More than a nickname — it means he's the leader of all leaders," said Cardinals broadcaster Polo Ascensio.
The Wainwrights visited the Molinas in Puerto Rico for Thanksgiving dinner in 2021, and as the recognizable right-hander played a nearby golf course, one worker greeted him.
"He said, 'Thank you for coming and visiting the great Yadier Molina,'" Wainwright recalled. "'We know about you, and we know you're a Christian. And you have your Jesus. And we have our Yadier Molina."
So have the Cardinals, for 19 seasons.
When Mark McGwire returned to be hitting coach in 2010, then manager Tony La Russa confessed that the Cardinals had a dilemma — the essential player could soon leave as a free agent. Not Pujols, McGwire recalled later: "Yadi." Molina remained for another dozen seasons, winning two of the four NL pennants in his era and closing his career as a part of 15 consecutive winning teams. It took a dozen years, but the Cardinals, like their catcher, saw this coming.
Contributions beyond the most advanced stats will now be revealed — a presence finally measured by the absence it leaves.
"What's that look like?" bench coach and longtime teammate Skip Schumaker said. "I don't know where this organization would be without Yadi. For almost 20 years we got to watch him. He made us better for years to come. Here's where I am: Maybe we shouldn't think of what it's like when he's gone, but be thankful we were here for what he did for so long."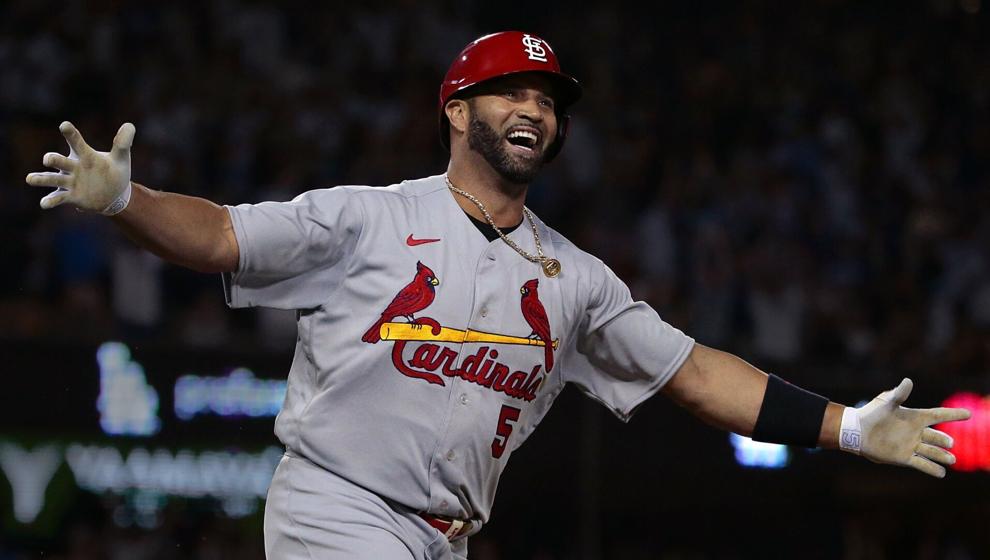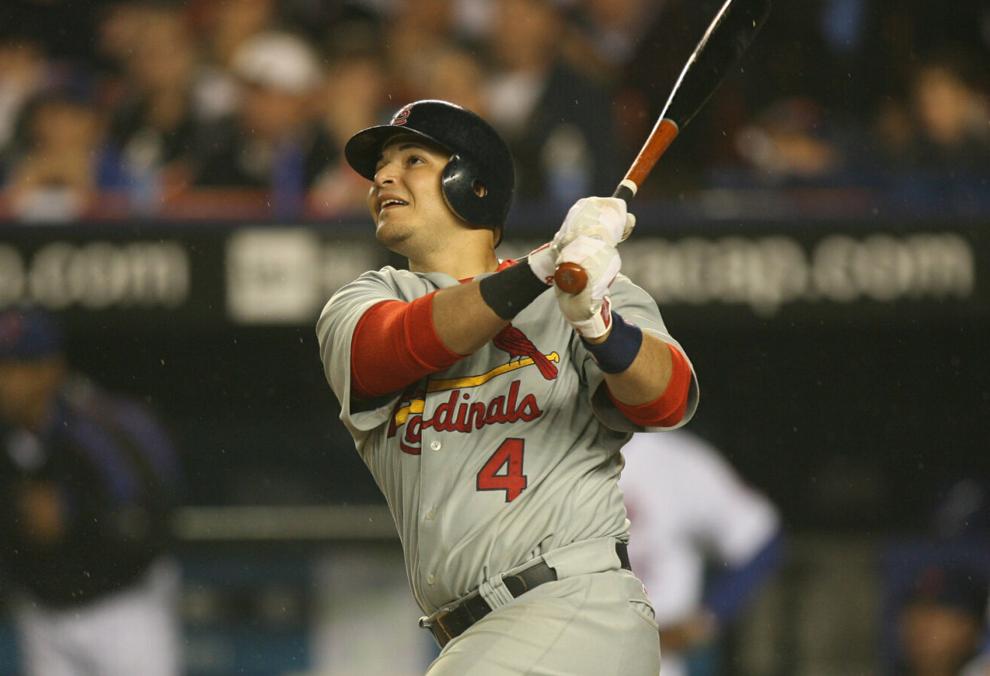 https://www.stltoday.com/sports/baseball/professional/cardinal-beat/the-mainstay-yadier-molina-outwitted-outworked-opponents-in-legendary-cardinals-career/article_62182e76-a144-5a04-8225-3258181920e6.html